The National Association of REALTORS Annual Conference is always one of the highlights of the year for many in the real estate industry. With amazing educational sessions, governance meetings, networking and more, it is definitely one of the premier events that most in the industry mark on their calendars each year. And this year it is in Boston!
So join RETI Team member Warren Dow as he gives his recap of all the biggest revelations, new tech findings and more!
Plus Warren is going to pull in a special mystery guest of a vendor who blows him away at the conference. So stay tuned and be sure to sign up/log on to the webinar to find out who that will be!
Wednesday, November 7th @ 3 PM EST
Instructor: Warren Dow
Special Guest:  ?, logon to find out ?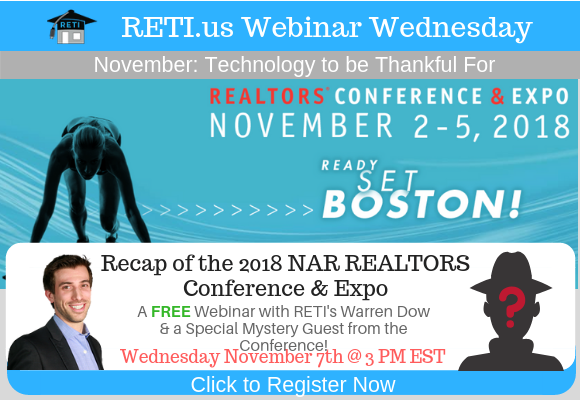 Social Media is a key to generating business these days. But if you don't know what you are doing, it can also be confusing and overwhelming.
In this session, RETI's Craig Grant will teach not just how to do social media, but do it the right way and in just a few minutes a day!
In this session we will explore the science (why just a few minutes a day works & how to game the ever changing algorithms), psychology (who uses & excels on each social network) & time management skills and tools you need to be a powerhouse in social media and not have it overtake your day.
Wednesday, October 24th @ 3 PM EST
Instructor: Craig Grant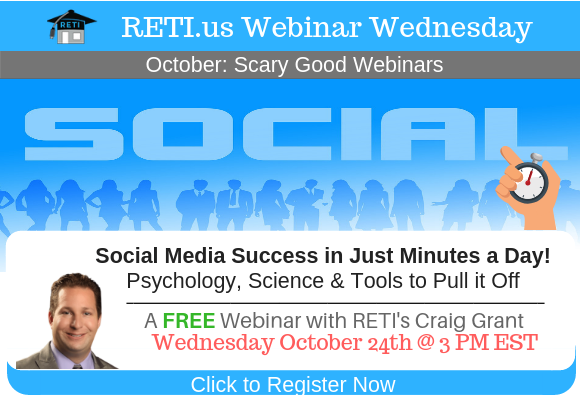 Whether you are a 20-year veteran or a newbie to the real estate business, it is hard standing out from the competition and carving out a real niche in your local market.
Just as the old saying goes, "There are Riches in the Niches", RETI's Amy Smythe-Harris will show you some proven strategies and techniques to help you carve out a niche that will help you succeed in your local real estate market.
Wednesday, October 17th @ 3 PM EST
Instructor: Amy Smythe-Harris
Special Guest: Jennifer Archambeault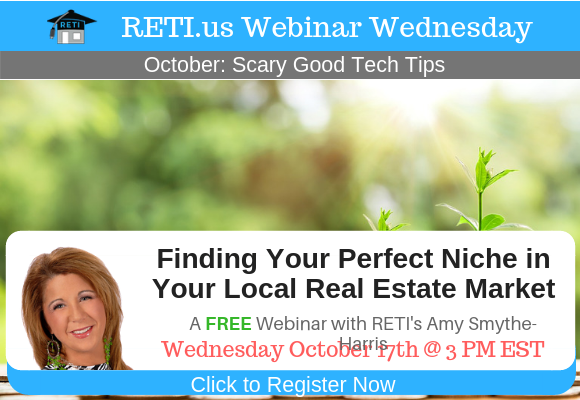 Have you ever sent an AMAZING marketing email and gotten almost no response? One of those emails that a tiny fraction of your list opened, and maybe your Aunt Mildred clicked on? It's OK, we've all been there – but don't worry, this webinar is here to help.
In this course, we will show you the top 5 strategies you can implement to make sure your emails get opened, read, and most importantly, clicked on. We will cover:
The basic concepts about what makes people respond to emails
Strategies you can use to develop both ongoing email campaigns, as well as 1 time marketing messages
Tips for grouping your contacts to get the best engagement
"Tech" tricks to get into more inboxes, and stay out of that SPAM folder
How to make sense of your reports and statistics, including what numbers actually matter, and which you can disregard
PLUS – We'll be offering a giveaway that everyone can implement to improve their business that same day… but you'll have to show up to find out what it is!!
I can't wait to share these powerful strategies to help you take your email marketing to the next level.
Wednesday, October 10th @ 3 PM EST
Instructor: Alex Camelio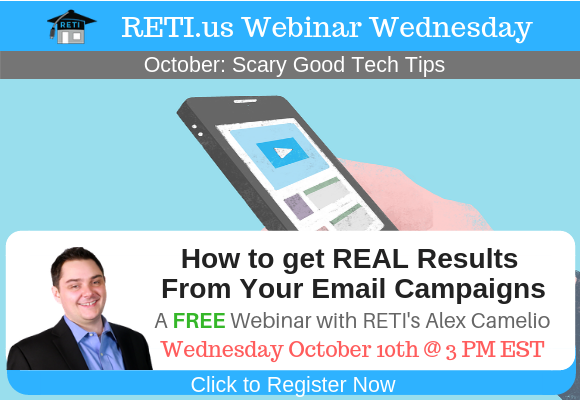 List Provided by RETI Contributor Brandon Doyle