This Week's Webinar Topic:
(Every Wednesday at 3 PM EST or available on Replay in the Webinar section of the RETI Website)
11/21 – No Webinar – Happy Thanksgiving!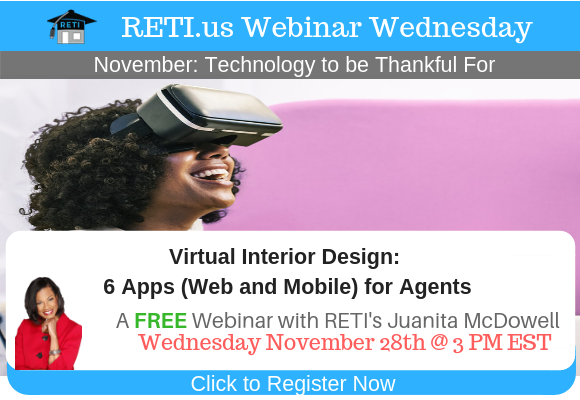 Next Few Week's Webinar Topics:
11/21 – No Webinar – Happy Thanksgiving!
12/19 to 1/2 no webinars due to end of year & the holidays
For more details or to register for any of the upcoming webinars also visit the Webinars page on RETI.us)
Thursday - Tech Tip or Trick of the Week
Any time you have a tech (non-support related) question, just log onto RETI.us and submit a question to the form in the site footer and the RETI Team will try to answer it as soon as possible.  How awesome is that!
Sign Up Yourself or Refer a Friend
If you are loving RETI, be sure to tell some of your friends about it as like you our business is driven by referrals.  And check out our September Special where they can get the 1st month for only $1.99 with the promo code RETIWEB or Get a Full Year for Only $99.95!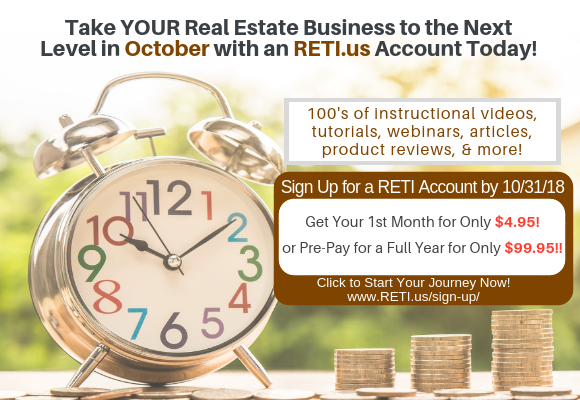 Is to help You take your real estate business to the next level through technology education.  So if there are any topics or tools we haven't covered, please feel free to make suggestions as we will be adding new content all the time. We hope all of this helps you get acquainted with and get the most value out of your RETI account, but if you need any help, just let us know.  We look forward to working with you and helping you learn technology!
Craig Grant – CEO The Real Estate Technology Institute