"7 Free Gmail Plugins That Will Help You Conquer Your Inbox"
One of the reasons, GMail is the most popular email program is the amazing world of plugins (apps) you can add to optimize your e-mail experience.  In this session, Juanita will give you 7 of them you will absolutely love!
Instructor:  Juanita McDowell
Wednesday, September 27th @ 3 PM EST
Click to Register for this Webinar Now!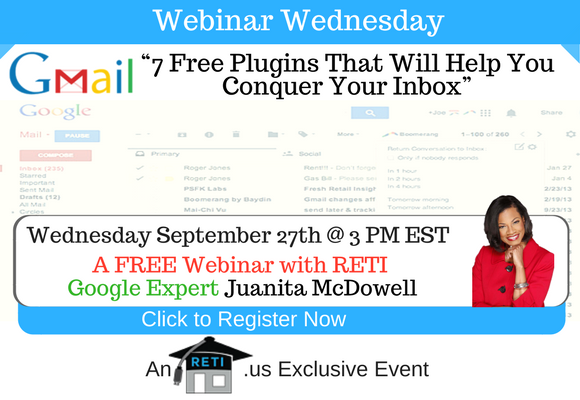 A FREE RETI Webinar with Warren Dow
Consumers of different generations are different which means you need to market differently to them.  In this amazing FREE RETI webinar, Warren Dow will show you how to do it right!
In this great session YOU will learn about:
Different Generational Marketing Styles
Different Generational Communication Styles
What Works with Today's Consumer
What Doesn't Work with Today's ConsumerMenus
Wednesday, July 19th @ 3 PM EST
Instructor:  Warren Dow
Click Here to Register for this Webinar Now!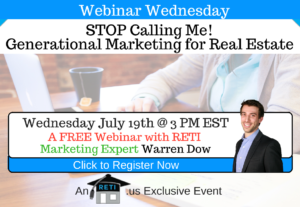 Just like you install apps to your phone to do cool things, you can install Add-ons into Google's Office Suite to take your business to the next level. In this webinar RETI's Craig Grant will show you these awesome tools!
Wednesday, June 14th @ 3 PM EST
Instructors:  Craig Grant
Click Here to Register for this Webinar Now