Month Themes
Date Your Mate Month
Foster Care Month
Lupus Awareness Month
National Barbecue Month
National Bike Month
National Blood Pressure Month
National Hamburger Month
National Photograph Month
National Recommitment Month
National Salad Month
Older Americans Month
Weekly Celebrations
Nurse's Week – first full week of month
Wildflower Week – week two
National Bike Week – third week
National Police Week – third week of month
Emergency Medical Services Week – fourth week of month
Promotion Ideas
Offer a seminar/workshop for small business owners
Attend Small Business Week networking events
Participate in an expo or trade show
Attend a Memorial Day parade or event
Mother's Day promotion
Graduate discounts
Offer a free seminar for employees at a local public service office
Charity bike ride
Blogging Ideas
May 4: Derby party with fundraiser raffle
May 5: Cinco de Mayo party
May 7: Teacher discount
Mother's Day gift guide
Graduation Gift Guide
Social Media Posting Ideas
Company bike ride
May 4: Star Wars costume contest
May 4: 2-minute tips in honor of the 2 minute Kentucky Derby race
May 12: Write authentic content involving mothers
May 25: Geek out over something related to your business
Timely Hashtags #
#biketoworkday2019
#geekpride2019
#maythe4thbewithyou
#geekswho[verb related to your industry]
#teachersgifts
#celiacsafe
#memorialdaysale
#memorialday2019
#honorthosewhoserved
Important Dates in February
Month Themes
National Humor Month
International Guitar Month
Keep America Beautiful Month
Lawn and Garden Month
National Kite Month
National Poetry Month
National Pecan Month
National Welding Month
Records and Information Management Month
Stress Awareness Month
Sexual Assault Awareness Month
Prom Season
Financial Literacy
Earth
NFL Draft
Autism
Volunteering
Donate Life
Weekly Celebrations
Week 1 Library Week
Week 1 Read a Road Map Week.
Week 2 Garden Week
Week 3 Organize Your Files Week
Week 3 Medical Labs Week
Week 4 Administrative Assistants Week
Week 4 National Karaoke Week
Promotion Ideas
Coupons for 2019 tax services
Company-wide volunteer day
Fundraiser for an Autism foundation
Earth Day community cleanup/BBQ
Blogging Ideas
Tax tips and services
Home and lawn care tips
Injury prevention/remedies for outdoor exercising
Finance, DIY, money-saving tips
Spring break travel tips
Social Media Posting Ideas
April 12: Company grilled cheese lunch/contest
April 22: Green/sustainability-themed posts
April 25: Your child's adventure at work
April 30: Ask customers for their honest feedback via comments or link to review site
Timely Hashtags #
#healthychoices
#healthybody
#healthierme
#healthytips
#arborday2018
#customerfeedback
#customerfirst
#customercare
#customershare
Important Dates in February
Month Themes
Irish American Month
Music in Our Schools Month
Reading
Brain Injury
March Madness
Youth Art
National Craft Month
National Frozen Food Month
National Irish American Heritage Month
National Nutrition Month
National Peanut Month
National Women's History Month
Red Cross Month
Social Workers Month
Promotion Ideas
Spring cleaning promotions
Discounts on green colored products
Youth art contest
Basketball-themed promotions
Discount to Girl Scouts or Troop Leaders
20% off for first day of spring on March 20th
Blogging Ideas
Tax preparation tips
Prom ideas and preparation tips
Spring cleaning-themed tips
Share kids books related to your industry
March 8: Spotlight female entrepreneur in your field
March 10: Time-saving tips related to your industry or service
Social Media Posting Ideas
Lucky draw contest: Followers enter by commenting or using a designated hashtag
Spotlight a female employee
Volunteer for a Women's Day-related cause
March 2: Share a Dr. Suess quote
March 5: Dress up for Mardi gras
March 17: Photos of your employees in green
March 23: Cutest puppy contest
Mar 31: Crayon coloring contest
Timely Hashtags
#firstdayofspring
#marchmadness
#stpattysday
#stpatricksday
#stpattysdaysale
#gogreen
#pinchme
#womensday2019
#womensdayspecial
#womensdayeveryday
Important Dates in February
Month Themes
American Heart Disease Awareness Month
An Affair to Remember Month
Black History Month
Cancer Awareness Month
Canned Food Month
Creative Romance Month
Great American Pie Month
National Bird Feeding Month
National Cherry Month
National Children's Dental Health Month
National Grapefruit Month
National Weddings Month
Teen Dating Violence Month
Promotion Ideas
Winner or Spring-themed special, based on Groundhog Day outcome
Valentine's Day promotion
Presidents' Day promotion
Super Bowl promotion
New patient or customer discounts
Heart-related charity/run/walk
Weather related discounts or specials
Raise money for World Cancer Day
Blogging Ideas
Spotlight influential African Americans in your field
Ways your business can promote heart health
Valentine's Day wish list or gift guide
Valentine's Day gift guide for women
Winter ideas based on your industry
Social Media Posting Ideas
Feb 1: Wear red campaign or contest
Feb 14: Discount to organ donors/receivers
Feb 17: Do a random acts of kindness and share on social media
Feb 20: Pets at work with custom hashtag
Timely Hashtags
#petsof[businessname]
#[businessname]pets
#actsofkindness
#hearthealthy
#cutepets
#instapet
#valentinesgifts
#valentinesdecor
#valentinesspecial
#Blackhistoryfacts
#blackhistorymonth
#datingviolenceawareness
#healthyteeth
#goredwearred
#gored[your city name]
#preventheartdisease
Important Dates in February
Month Themes
National Bath Safety Month
National Blood Donor Month
National Braille Literacy Month
National Hobby Month
Hot Tea Month
National Oatmeal Month
National Soup Month
Promotion Ideas
Discount for fitness/recreation services
New Years Resolutions
Participate in a blood drive, or discount to customers who donated blood
19% off sale for 2019
Start the Year off Right
Blogging Ideas
Recap/takeaways from your holiday fundraiser
New Year's Resolutions as they pertain to customers
Health & fitness tips for the New Year
New Year goals for your clients
New promotions and services for your business
Industry outlook/predictions in 2019
2019 must-dos for your customers and clients
Social Media Posting Ideas
New Year's resolution campaign with a custom hashtag
January 14: Run a "Dress Up Your Pet" Instagram giveaway
January 21: MLK Day of Service
January 24: Compliment and tag loyal customers in a photo
January 28: Share pics of employees having fun
Timely Hashtags
#newyearnewyou
#newyeargoals
#newyearsale
#newyeardecor
#newyearvibes
#newyearsresolution
#funatworkday
#postholidaysale
#postholidayblues
#newyearschallenge
#newyearsgoals
#goalsetting
#goaldigger
#mlk
Important Dates in November
Month Themes
AIDS Awareness
Bingo Month
Business Plan
Human Rights
Safe Toys & Gifts
Write a Friend Month
National Flu Vaccination Week (2nd-8th)
Important Dates in November
Promotion Ideas
Discount with flu shot
New Year's promotions
Home repair and cleaning services: campaigns around getting homes ready for holiday parties
Toy drive
18% off for the final days of 2018
Advent sales/featured products
December 3: Gift-making workshop
December 18: Free shipping
December 18: Send holiday gifts to loyal clients
December 19: Ugly sweater party
Blogging Ideas
Holiday gift guides
Holiday fitness survival guide
Winter home preparedness tips
Recap highlights of the year for your business
2019 must-dos
Social Media Posting Ideas
Holiday wishlist contest/giveaway
Post photos from memorable moments throughout the past year
Advent giveaways
December 26: Virtual thank you notes
The National Association of REALTORS Annual Conference is always one of the highlights of the year for many in the real estate industry. With amazing educational sessions, governance meetings, networking and more, it is definitely one of the premier events that most in the industry mark on their calendars each year. And this year it is in Boston!
So join RETI Team member Warren Dow as he gives his recap of all the biggest revelations, new tech findings and more!
Plus Warren is going to pull in a special mystery guest of a vendor who blows him away at the conference. So stay tuned and be sure to sign up/log on to the webinar to find out who that will be!
Wednesday, November 7th @ 3 PM EST
Instructor: Warren Dow
Special Guest:  ?, logon to find out ?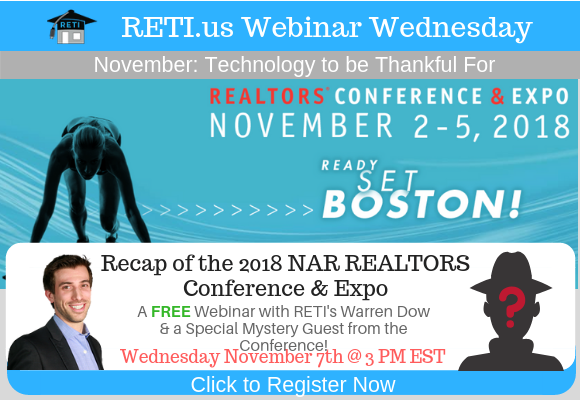 Month Themes
Entrepreneurship Month
Lung Cancer Month
Military Family Month
PTA Healthy Lifestyles Month
Men's Health Month
Aviation History Month
Child Safety Protection Month
International Drum Month
National Adoption Awareness Month
National Caregivers Appreciation Month
National Diabetes Awareness Month
National Epilepsy Month
National Model Railroad Month
National Novel Writing Month
Native American Heritage Month
Peanut Butter Lovers Month
Real Jewelry Month
National Sleep Comfort Month
Important Dates in November
Promotion Ideas
Movember for men's health
Lung cancer charity walk
Host a food drive, those who donate get a coupon
Small Business Saturday promotions
November 15: Recycling drive
November 27: Donate proceeds to charity
Blogging Ideas
Thanksgiving recipes
Holiday gift guides
Black Friday survival guide or tricks
Winter prep guide
Tips for personal/business security
November 4: How to take advantage of that extra hour
November 27: Recommended Cyber Monday sites applicable to but not in competition with your business
Social Media Posting Ideas
Thankful campaigns
Share photos of customers/partners you're thankful for
Thank veterans
November 24: Small Business Saturday discount codes
Social Media is a key to generating business these days. But if you don't know what you are doing, it can also be confusing and overwhelming.
In this session, RETI's Craig Grant will teach not just how to do social media, but do it the right way and in just a few minutes a day!
In this session we will explore the science (why just a few minutes a day works & how to game the ever changing algorithms), psychology (who uses & excels on each social network) & time management skills and tools you need to be a powerhouse in social media and not have it overtake your day.
Wednesday, October 24th @ 3 PM EST
Instructor: Craig Grant