Month Themes
American Heart Disease Awareness Month
An Affair to Remember Month
Black History Month
Cancer Awareness Month
Canned Food Month
Creative Romance Month
Great American Pie Month
National Bird Feeding Month
National Cherry Month
National Children's Dental Health Month
National Grapefruit Month
National Weddings Month
Teen Dating Violence Month
Promotion Ideas
Winner or Spring-themed special, based on Groundhog Day outcome
Valentine's Day promotion
Presidents' Day promotion
Super Bowl promotion
New patient or customer discounts
Heart-related charity/run/walk
Weather related discounts or specials
Raise money for World Cancer Day
Blogging Ideas
Spotlight influential African Americans in your field
Ways your business can promote heart health
Valentine's Day wish list or gift guide
Valentine's Day gift guide for women
Winter ideas based on your industry
Social Media Posting Ideas
Feb 1: Wear red campaign or contest
Feb 14: Discount to organ donors/receivers
Feb 17: Do a random acts of kindness and share on social media
Feb 20: Pets at work with custom hashtag
Timely Hashtags
#petsof[businessname]
#[businessname]pets
#actsofkindness
#hearthealthy
#cutepets
#instapet
#valentinesgifts
#valentinesdecor
#valentinesspecial
#Blackhistoryfacts
#blackhistorymonth
#datingviolenceawareness
#healthyteeth
#goredwearred
#gored[your city name]
#preventheartdisease
Important Dates in February
Month Themes
National Bath Safety Month
National Blood Donor Month
National Braille Literacy Month
National Hobby Month
Hot Tea Month
National Oatmeal Month
National Soup Month
Promotion Ideas
Discount for fitness/recreation services
New Years Resolutions
Participate in a blood drive, or discount to customers who donated blood
19% off sale for 2019
Start the Year off Right
Blogging Ideas
Recap/takeaways from your holiday fundraiser
New Year's Resolutions as they pertain to customers
Health & fitness tips for the New Year
New Year goals for your clients
New promotions and services for your business
Industry outlook/predictions in 2019
2019 must-dos for your customers and clients
Social Media Posting Ideas
New Year's resolution campaign with a custom hashtag
January 14: Run a "Dress Up Your Pet" Instagram giveaway
January 21: MLK Day of Service
January 24: Compliment and tag loyal customers in a photo
January 28: Share pics of employees having fun
Timely Hashtags
#newyearnewyou
#newyeargoals
#newyearsale
#newyeardecor
#newyearvibes
#newyearsresolution
#funatworkday
#postholidaysale
#postholidayblues
#newyearschallenge
#newyearsgoals
#goalsetting
#goaldigger
#mlk
Important Dates in November
Month Themes
AIDS Awareness
Bingo Month
Business Plan
Human Rights
Safe Toys & Gifts
Write a Friend Month
National Flu Vaccination Week (2nd-8th)
Important Dates in November
Promotion Ideas
Discount with flu shot
New Year's promotions
Home repair and cleaning services: campaigns around getting homes ready for holiday parties
Toy drive
18% off for the final days of 2018
Advent sales/featured products
December 3: Gift-making workshop
December 18: Free shipping
December 18: Send holiday gifts to loyal clients
December 19: Ugly sweater party
Blogging Ideas
Holiday gift guides
Holiday fitness survival guide
Winter home preparedness tips
Recap highlights of the year for your business
2019 must-dos
Social Media Posting Ideas
Holiday wishlist contest/giveaway
Post photos from memorable moments throughout the past year
Advent giveaways
December 26: Virtual thank you notes
The National Association of REALTORS Annual Conference is always one of the highlights of the year for many in the real estate industry. With amazing educational sessions, governance meetings, networking and more, it is definitely one of the premier events that most in the industry mark on their calendars each year. And this year it is in Boston!
So join RETI Team member Warren Dow as he gives his recap of all the biggest revelations, new tech findings and more!
Plus Warren is going to pull in a special mystery guest of a vendor who blows him away at the conference. So stay tuned and be sure to sign up/log on to the webinar to find out who that will be!
Wednesday, November 7th @ 3 PM EST
Instructor: Warren Dow
Special Guest:  ?, logon to find out 😉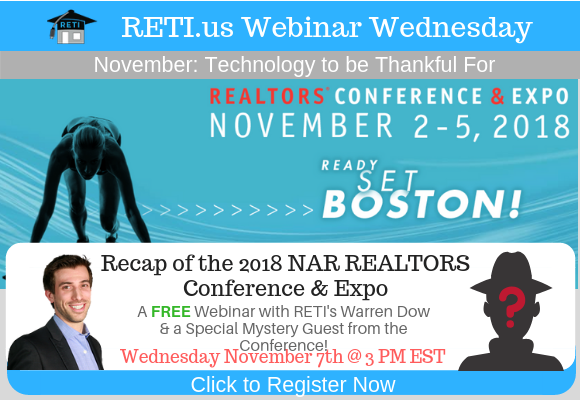 Month Themes
Entrepreneurship Month
Lung Cancer Month
Military Family Month
PTA Healthy Lifestyles Month
Men's Health Month
Aviation History Month
Child Safety Protection Month
International Drum Month
National Adoption Awareness Month
National Caregivers Appreciation Month
National Diabetes Awareness Month
National Epilepsy Month
National Model Railroad Month
National Novel Writing Month
Native American Heritage Month
Peanut Butter Lovers Month
Real Jewelry Month
National Sleep Comfort Month
Important Dates in November
Promotion Ideas
Movember for men's health
Lung cancer charity walk
Host a food drive, those who donate get a coupon
Small Business Saturday promotions
November 15: Recycling drive
November 27: Donate proceeds to charity
Blogging Ideas
Thanksgiving recipes
Holiday gift guides
Black Friday survival guide or tricks
Winter prep guide
Tips for personal/business security
November 4: How to take advantage of that extra hour
November 27: Recommended Cyber Monday sites applicable to but not in competition with your business
Social Media Posting Ideas
Thankful campaigns
Share photos of customers/partners you're thankful for
Thank veterans
November 24: Small Business Saturday discount codes
Social Media is a key to generating business these days. But if you don't know what you are doing, it can also be confusing and overwhelming.
In this session, RETI's Craig Grant will teach not just how to do social media, but do it the right way and in just a few minutes a day!
In this session we will explore the science (why just a few minutes a day works & how to game the ever changing algorithms), psychology (who uses & excels on each social network) & time management skills and tools you need to be a powerhouse in social media and not have it overtake your day.
Wednesday, October 24th @ 3 PM EST
Instructor: Craig Grant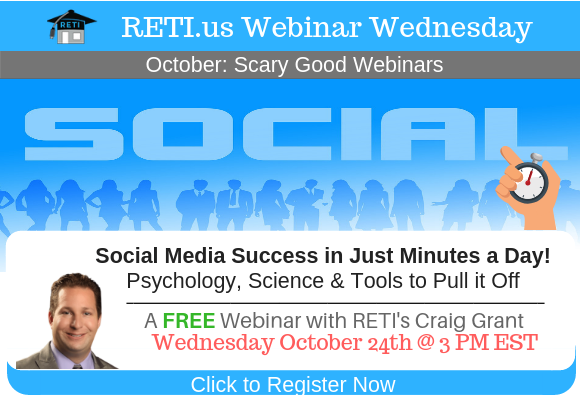 Whether you are a 20-year veteran or a newbie to the real estate business, it is hard standing out from the competition and carving out a real niche in your local market.
Just as the old saying goes, "There are Riches in the Niches", RETI's Amy Smythe-Harris will show you some proven strategies and techniques to help you carve out a niche that will help you succeed in your local real estate market.
Wednesday, October 17th @ 3 PM EST
Instructor: Amy Smythe-Harris
Special Guest: Jennifer Archambeault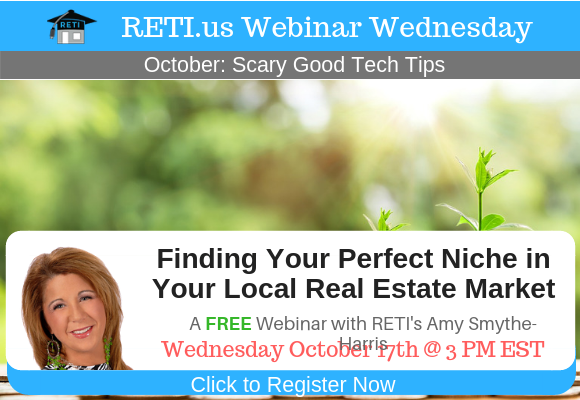 Have you ever sent an AMAZING marketing email and gotten almost no response? One of those emails that a tiny fraction of your list opened, and maybe your Aunt Mildred clicked on? It's OK, we've all been there – but don't worry, this webinar is here to help.
In this course, we will show you the top 5 strategies you can implement to make sure your emails get opened, read, and most importantly, clicked on. We will cover:
The basic concepts about what makes people respond to emails
Strategies you can use to develop both ongoing email campaigns, as well as 1 time marketing messages
Tips for grouping your contacts to get the best engagement
"Tech" tricks to get into more inboxes, and stay out of that SPAM folder
How to make sense of your reports and statistics, including what numbers actually matter, and which you can disregard
PLUS – We'll be offering a giveaway that everyone can implement to improve their business that same day… but you'll have to show up to find out what it is!!
I can't wait to share these powerful strategies to help you take your email marketing to the next level.
Wednesday, October 10th @ 3 PM EST
Instructor: Alex Camelio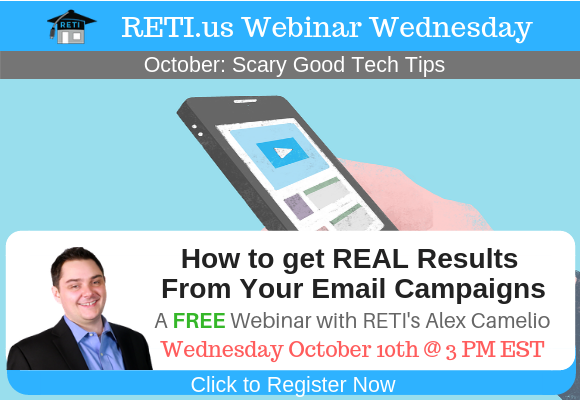 As you may know, September is REALTOR Safety Month, so all month long we are going to focus on just that, how to protect yourself and your business. This week, Craig Grant will be focusing on how to protect Yourself and more importantly your clients' from Wire Transfer, Listing Scams, Hackers & More. Trust us, you don't want to miss this week's webinar!
Wednesday, September 26th @ 3 PM EST
Instructor: Craig Grant